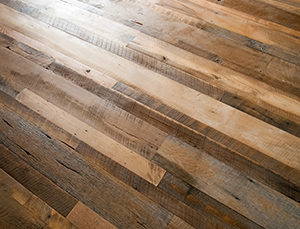 Reclaimed wood is increasing in popularity as the public becomes more aware of all the wonderful projects it can be incorporated into at home and the office. Reclaimed barnwood and other recycled lumber are finding their way into walls, bookshelves, accent pieces, doors, flooring, and much more.
The following are a few fun facts about reclaimed wood and how it can help you add a unique, striking look to your home or office.
Fun Facts About Reclaimed Wood
There's an amazing amount of lumber out there to be reclaimed. The Environmental Protection Agency estimates that demolished buildings can provide more than a billion feet of usable recycled lumber each year. Recycling this wood into flooring, furniture, and other products can greatly reduce demand for wood, preserving forests.
Reclaimed wood comes from a variety of sources. Some of the more common ones include old barns, old gym bleachers, shipping and crating products, and decommissioned ships.
In addition to saving trees, using recycled lumber can save energy. Processing reclaimed wood to create flooring uses 13 times less energy than processing virgin wood for flooring.
Reclaimed lumber is graded into three classes: low, mid, and high. Low grade reclaimed lumber is used for firewood and fuel. Mid-grade is used for shipping and crating. High grade gets refurbished and is used for furniture, siding, flooring, and more.
If you are interested in barn dismantling or restoration services, Barnstormerswood is the company for you. We always ensure that our clients are our number one priority and that their dreams are becoming a reality. For more information, contact us today.