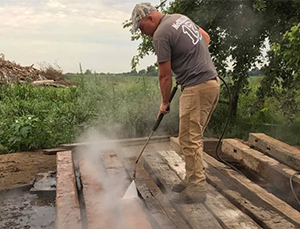 For furniture, siding, doors, and other applications, recycled barnwood lends an authentic sense of history and Americana. There is a multitude of great home refurbishing and construction projects recycled barnwood lends itself to, and gray barnwood and other varieties of this reclaimed wood are enjoying growing popularity among homeowners.
When seeking barnwood for a project, or to recycle old wood, consider the following tips:
Don't try this on your own. Recycling barnwood is labor intensive and requires special skills. This is not a project for DIYers. When you have wood you'd like to recycle, call in a contractor or wood recycling expert.
Once you have the recycled the wood, use it quickly. Leaving recycled barnwood in the yard or in storage can leave it open to deterioration. When you purchase the wood, have a specific purpose for it and work with your contractor or on your own to implement that plan as soon as possible.
Understand what you're getting. Barnwood isn't pristine and perfect. It has knots and swirls and character. Be sure you understand what the wood looks like before you purchase it.
Communicate with your contractor. If you're working with a contractor on a major home renovation, be sure to let him or her know you want to use barnwood. This will help the contractor better understand the project and help the contractor plan to get the best use from reclaimed wood components.
Barnstormerswood provides barn dismantling and restoration services for clients around the nation. For homeowners who'd like a genuine piece of American history, Barnstormerswood can help create one-of-a-kind, authentic homes. For more information contact us today.