With the recent trend of reclaimed wood, there are many known uses for it including barn doors, flooring, mantels, and more. While there are multiple common uses for reclaimed wood, there are many things you can incorporate reclaimed wood into that create more unique pieces for your home. These statement pieces will really add to your home and create a rustic feel without having to completely redesign the room. Take a look at the seven unique uses for reclaimed wood we have come up with for you.
Uses for Reclaimed Wood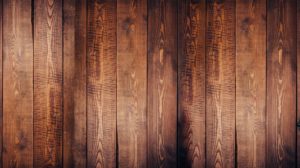 1. Kitchen Backsplash
Adding a reclaimed wood backsplash to your kitchen will make heads turn. Reclaimed wood is the perfect natural, textured contrast to a hard, smooth countertop. There are multiple ways that you can arrange reclaimed wood as a backsplash ranging from herringbone patterns to a long plank look. No matter which style you go with, a reclaimed wood kitchen backsplash will, without a doubt, give your home the unique look you are going for.
2. Mirrors
Creating a reclaimed wood border around a mirror can add so much to a room. From adding it to an elegant bathroom to hanging it in a rustic basement, it will be sure to add texture and that perfect finishing touch to any room in your home.
3. Fireplaces
While many people are used to seeing reclaimed wood on a mantle of a fireplace in a home, have you ever thought about using reclaimed wood on the wall behind the fireplace? Reclaimed wood is a great alternative to the basic brick that is usually surrounding the fireplace. Adding reclaimed wood creates an accent wall in the room and can really become that unique feature that completes the entire room.
4. Bathroom Tile
When you think of bathroom tile, you probably imagine smooth, ceramic squares lining the wall. But what about using reclaimed wood as tile for your bathroom? While it may be hard to picture, installing reclaimed wood as tiling in your bathroom can add a very clean, natural look that completely outdoes the typical bathroom tile.
5. Interior Walls
Adding a reclaimed wood accent wall to your bedroom is one simple way to give your entire room a facelift while staying in budget and without having to redo the entire space. Adding a reclaimed wood accent wall will give your room a pop of texture and comfortable feel. Adding this accent wall will add that contrast you are looking for all while being sure to not overdo it.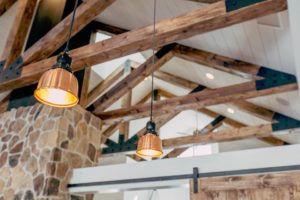 6. Ceilings
If your living area feels a little bare but you are not sure what it is missing, consider installing a reclaimed wood ceiling. The ceiling of a room is often the most overlooked space, but should not be. Adding reclaimed wood to the ceilings can completely alter the look of a room while still remaining affordable.
7. Kitchen Island
If you are looking for a homey yet elegant piece to complete your kitchen look, reclaimed wood islands are a great option. They remain practical all while adding rustic, unique aesthetics to your kitchen area. If your kitchen is lacking in the style aspect, adding a reclaimed wood island to the space will act as a striking central feature in the heart of the home.
If you are looking for ways to upgrade your home without having to go way over your budget, look into these seven unique ways to incorporate reclaimed wood into your home. Barnstormerswood offers the best reclaimed wood in North America. From custom barn doors to floor installation, we offer a number of services and have a wide variety of reclaimed wood inventory options as well. If you have any questions about reclaimed wood or any questions about the uses for reclaimed wood, don't hesitate to contact us here.